The update for the DA-HelpCreator is online now. Version 2.2 brings numerous small new features and detail improvements. In addition there is now a PDF export and improved functions for context sensitive CHM help files.
As always, the update is free for registered users and can be downloaded directly from our homepage or via the update function.
PDF export
Individual articles and pages can now be exported as PDF files at the push of a button, e.g. for passing on information by e-mail or for publishing individual pieces of information. The design of the PDF can be defined in the settings. Page margins, headers and footers can be configured here.
Help ID for CHM files
For CHM files the integration as context sensitive help has been improved. A help ID can be defined for each article, which can then be used to open the CHM file from a programming language and jump directly to the appropriate content.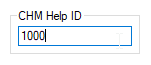 Other improvements
Paste images with transparency via the clipboard
Improvement for the cooperation with version administrations like GIT or SVN
Preview file size when pasting images from the clipboard
FTP upload improved